Posts Tagged 'Anna L. Marks'
August 25, 2011  Coach Teresa here, adding the link to Lori Hope's humorous/serious article at  Huffington Post:  Lori Hope: Direct Mail and How to Help Someone with Cancer
It was a lucky day for me when Vicki Weiland (dear colleague at Women's National Book Association-San Francisco Chapter) called me to say: "Teresa, Lori Hope is looking for you!" Lori was the Managing Editor for Bay Area Business Woman News at the time; she invited me to talk about the themes in my novel Love Made of Heart.  When the interview (entitled "Bleeding Heart Bleeds Love" ) was published under the "Off the Shelf" column, I read Lori's words and cried and cried. My mom would have been so proud.
What I had learned about the publishing industry was this:  busy people giving their time and energy to help newbies are walking-angels. Lori Hope was reviewing the galley proofs of her own book Help Me Live: 20 Things People with Cancer Want You to Know.  We know how thrilling and time-consuming that task is.  So, that's how I remember my first meetings with Lori–she was generous, kind, and inspiring.
Recently, when I saw that Lori Hope commented on my post about Anna L. Marks, I was tickled to hear from her. But,  then I read Lori's words: "Just recovering from cancer treatment . . . "
I got very sad (this news meant a recurrence of lung cancer for Lori?). I read on. Lori said: " . . . expanded and revised edition of Help Me: 20 Things People with Cancer Want You to Know comes out Sept. 13!   With love and always hope,  Lori"
"Always hope."  Lori's last name is also her gift to the world. She is a dear powerful spirit.
Lori's "author's journey" is her Hero's journey.
I recommend Lori's blog:  What Helps. What Hurts. What Heals.
Lori's post "Dance With Me" where she says: "No sign of metastasis…" is truly music.
Is Lori Hope the WonderWoman behind "how to help, heal, and keep hope alive" ?   YES!
The second edition of Help Me Live: 20 Things People with Cancer Want You to Know, which includes a new foreword by Rachel Naomi Remen, MD, new sections on gender, childhood and young adult cancers, and a survey of 600+ survivors, will be available September 13, 2011. News about appearances/fundraisers will be available soon. Please visit Lori's website
Sincerely,
Teresa

Teresa LeYung-Ryan says: "Reach out, not stress out, when pursuing your dreams!"
Coach Teresa is the author of Build Your Writer's Platform & Fanbase In 22 Days and Love Made of Heart.
Coach Teresa's YouTube Channel: http://www.youtube.com/teresaleyung
Coach Teresa, who is Anna L. Marks and how does she take on the world?
Anna L. Marks was the superwoman behind the print newspaper Bay Area BusinessWoman News (it was available at news-stands in financial and commercial districts all over the greater San Francisco Bay Area, CA).  Anna's publication helped women create national platforms for themselves before the word "platform" was used  in the business world.  Brava, Anna!

I was one of the lucky authors who was interviewed by Lori Hope (Managing Editor for BABW at the time) who had found me through Vicki Weiland and Women's National Book Association.

Anna sold the paper to Debra Costner and I'll blog about Debra soon.
What is Anna up to these days?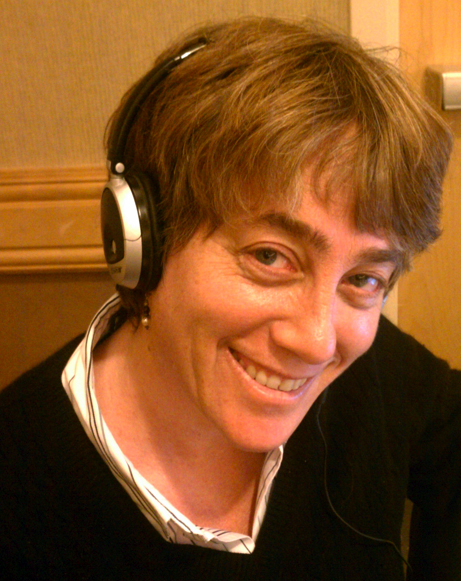 Anna L. MARKS – Producer at Hungry Mind Recordings
Anna L. Marks is a serial social entrepreneur. She is the creator and founder of Conscious Life Magazine and Bay Area BusinessWoman News where she served as publisher and editor-in-chief for over 15 years. Marks has been on numerous boards, and currently serves on the Alameda County Women's Commission. She was awarded "Businesswoman of the Year" by San Fransisco Business and Professional Women; and "Social Entrepreneur of the Year" by the San Francisco chapter of the National Association of Women Business Owners. Marks is passionate about using new media as a change agent for global progress in the new millennium.
On the HMR website, there's a category entitled "Women Take On the World."  Anna L. Marks is definitely one of these women!
*****************************

By the way, here's the praise from Lori Hope for Love Made of Heart:
"The book's title (Love Made of Heart) refers to the fact that the Chinese word for 'heart' is embedded within the word 'love.' The book is about love, liberation and forgiveness. For those seeking inspiration during difficult times, this courageous book is half hot tub, half massage. But only after some painful, albeit unpredictable plot twists."
Thank you, Lori! I'll be blogging about you too.
*****************************
Cheers to Anna and everyone she works with!
Sincerely,
Writing Career Coach Teresa LeYung-Ryan who says: "Reach out, not stress out, when pursuing your dreams!"
Build Your Writer's Platform & Fanbase In 22 Days